In this interview, we speak to Subodh Nimkar, Marketing Director at Gator Bio, about their latest technology, Gator Pro which allows for fast, reliable, and high-quality data. 
Please can you introduce yourself and tell us about your role at Gator Bio?
I am Subodh Nimkar, Marketing Director at Gator Bio. I have been at the company for two years, having worked in the industry for over 25 years. Previously, I have worked with companies such as Applied Biosystems, Thermo Fisher, and Agilent.
Gator Bio is a company set up to move medicine forward by opening new doors to researchers. Can you tell us more about Gator Bio and some of your core aims and values?
Gator Bio is motivated by the many challenges discovery scientists face while developing proteins, small molecules and viruses based biotherapeuics. This includes development of antibodies for immunotherapy and delivery of specific genomic material for cell and gene therapy. The company's bio-layer interferometry technology brings significant benefits over other platforms in the market.
Our technology is built around our biosensors, the heart of our technology, both for antibody characterization and gene therapy, specifically viral vectors and non-viral vectors analytics.
The biotechnology field has evolved rapidly in recent years, with new technological advancements being made at an unprecedented pace. How do you feel the biotech sector has evolved over the last ten years, and what do you enjoy most about working in such a fast-paced environment?
We are a relatively new company with multiple platforms in the market, launching our first product four years ago. We have observed that most of the innovation in biotherapeutics is happening in small and medium-sized biotech companies.
At Gator Bio, our platforms are positioned to add significant value to these small- and medium-sized biotech and now biopharma companies. Within the last three years, we have launched many biosensors and instrumentation to help drive growth or increase efficiency for these smaller companies to develop biotherapeutic products.
As in the later stages of development, the therapeutic pipeline moves to more prominent biopharma companies, we have also upped our game by offering higher throughput and higher accuracy platforms that would be more attractive to these traditional big biopharma companies.
Image Credit: Sergey Nivens/Shutterstock.com
Gator Bio is responsible for the creation of Bio-layer Interferometry Technology (BLI), first designed in 2001. Could you tell us more about this technology and how it works?
Dr. Hong Tan first developed the BLI instrumentation during his time at ForteBio. The Gator Bio founders, Hong Tan and Bob Zuk, observed that, significant gaps still exist in the BLI portfolio, and addressing those would help develop both antibody or protein-based and AAV gene therapy-based biotherapeutics more efficiently and cost effectively.
This led them to form Gator Bio and launch these newer next-generation bio-layer interferometry products. They truly add value in productivity, efficiency, and cost-effectiveness.
BLI technology can support multiple stages of therapeutic development. How is this, and why was it important to you to design a technology adaptable for researchers?
Since significant chunk of the early discoveries occur in smaller and medium biotech companies and then move to bigger biopharma companies, we needed to develop products that will meet the requirements of smaller biotechs but can also be scaled up.
All our technology is developed with this in mind. For example, an entry-level product, which is Gator Prime, supports a 96-well-based format, a good starting instrument for small startups. Then there is Gator Plus, which supports both 96-well and 384-well plates, a much higher throughput platform.
Finally, we recently launched Gator Pro because we have reached a point where our robustness is exceptionally high, and we can raise the throughput without sacrificing accuracy. This means, studies such as very high-throughput quantitation, epitope binning, and kinetics, can now be carried out in an extremely high-throughput manner without sacrificing accuracy.
You have recently launched your latest product, Gator Pro, which is an instrument designed for fast, automated, high-throughput analysis. Can you tell us more about your latest product and how it works?
Gator Pro is a platform capable of carrying out quantitation of 1,152 samples in one run, removing the need for additional automation to do these large sample batches. It utilizes 32 high-frequency spectrometers to sample 32 signals in parallel, meaning there is no sacrifice in the accuracy of these measurements.
This platform is a natural evolution of our Gator Prime and Gator Plus systems. Those who have developed their methods and assays on lower throughput Gator Plus can quickly ramp up throughput using Gator Pro and perform all three studies: epitope binning, kinetics, and quantitation accurately.
Gator Pro can automate the data acquisition and processing of up to 1,152 samples per batch, allowing for fast, reliable, and high-quality data. What benefits do this speed and accuracy have for researchers working on multiple projects simultaneously? Are there any other benefits the Gator Pro provides researchers?
The Gator Pro system can be deployed in many ways; in a traditional way, to perform quantitation, kintetics and epitope binning on its own, or, it can also be used as a very efficient and accurate screening tool before SPR validation. A great complementary tool to SPR. Typcally, the kD values for binding kinetics, and epitope binning experimentation results, from SPR are considered the gold standard. However, the SPR system can lack throughput or be signficant burden on the budget or both.
With the Gator Pro system, large number of antibodies or antibody-antigen interactions can be screened, filtering out the not-so-interesting candidates, and the remaining candidates can then be validated using the SPR platform. This workflow can significantly improve productivity and cost efficiency of candidate selection and validation.
The Gator Pro can also be coupled with your biosensors, consumables, and navigator software. What benefits does an 'all-in-one' total solution provide your customers?
Our core philosophy is offering total solutions, not just the tools as a 'Swiss knife'. Of course, our platforms can be used as a 'Swiss knife' and people can develop their own biosensors or ask us to develop custom biosensors. But, we strive to provide total solutions for the antibody discovery applications we support.
The same applies to AAV analytics needed in gene therapy. We offer total solutions that will help customers do their assays, from research to clinical trials, using the same platform. Our very high-sensitivity titer and empty versus full assays for AAVs are being done very efficiently and effectively in the companies developing gene therapy. Gator Bio assays are the only assays currently on the market that are truly crude sample compatible, and can be deployed at every stage, from harversting to final product formulation. We have also developed a platform method for very efficient TABs assay, an easy and cost effective alternative to cell based assays.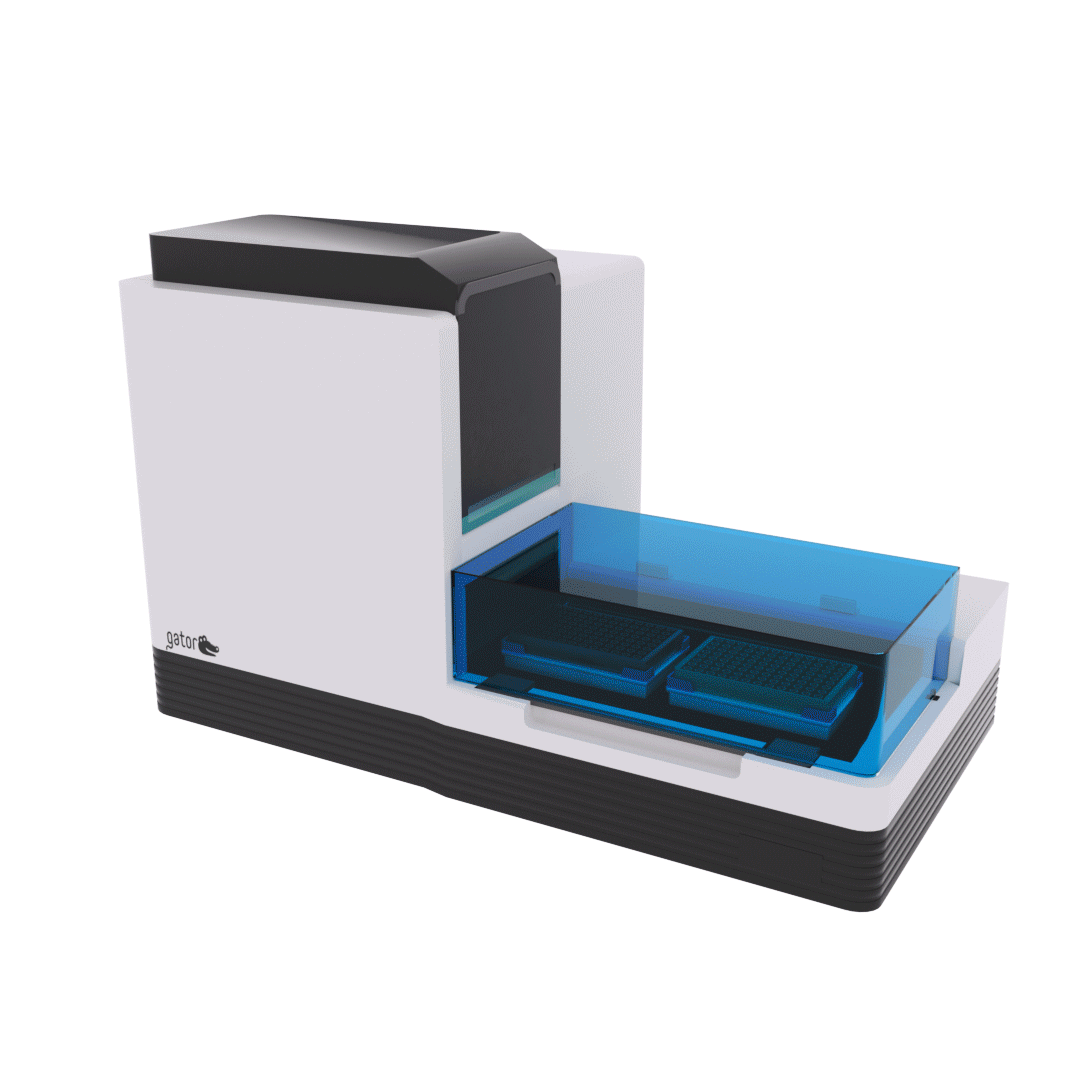 Image Credit: Gator Bio
We are seeing many companies shift to automation in their technology to help speed up what often can be lengthy and tedious processes. What role do you feel automation plays within life sciences research, especially surrounding drug discovery, and what role do you see it playing in the future?
Automation is a key component of any development, both in the very early and the later stages of development. For bio-layer interferometry, screening multiple antibodies using epitope binning or kinetics is one of the key applications.
This involves studying a large number of antibody-antigen interactions, which needs to be carried out very quickly and accurately to enable companies to screen out unnecessary or ineffective molecules during early discovery. This is where automation plays a key role for our customers and us, and we will continue offering our software APIs and integration with multiple partners going forward.
You are showcasing your new technology at SLAS, an international exhibition bringing together both industry professionals and world-leading researchers in the life sciences. How important are in-person exhibitions like SLAS in promoting new technology and developing new partnerships?
As a relatively new but fast-growing company, we must be present in shows like SLAS to increase visibility and build partnerships to offer automation integration. Additionally, biotech and biopharma companies are looking for total solutions, and that is where our presence is critical for our growth and visibility.
With continued innovation in science, are you hopeful that we will continue your mission to 'make meaning out of every molecule'?
We play a small but important part in overall biotherapeutic discovery using our bio-layer interferometry solutions, but, we believe that the biotherapeutic industry is growing in the traditional drugs based on small molecules, protein and antibodies, and also in the gene and cell therapy markets.
We strongly believe that the industry will grow, and we can add value to our customers in small, medium, and large biopharma industries.
Image Credit: Gorodenkoff/Shutterstock.com
What is next for Gator Bio? Do you have any exciting projects/developments in the pipeline?
We have many exciting projects in the pipeline. Our core market is our antibody and protein-based therapeutics customers. We focus on developing truly novel biosensors that will enable our customers to develop methods and conduct their studies far more efficiently and effectively.
We also have gene therapy developers who are using Gator titer and empty/full assays for AAVs. For gene therapy, as I mentioned earlier, we are focusing on total solutions from very early discovery to clinical trials.
About Subodh Nimkar
Subodh Nimkar for last 2 years has focused on delivering novel Biolayer Interferometry based solutions for antibody characterization and viral vector analytics. He brings over 25 years of marketing and product management experience in the life sciences instrumentation, software and consumables business.
The extensive experience spans the fields of protein characterization and quantitation using mass spectrometry and Edman sequencing, and several years in next-gen sequencing. In addition to managing marketing and product management in the USA, Subodh has also experience in the Asia Pacific and EU.