Amazon is the largest online marketplace in the US and one of the biggest worldwide. Therefore, writing an effective Amazon product description is important if you want to get rank, grab attention and convince people to buy.
Unfortunately, writing copy that drives sales on Amazon is not easy.  Amazon product description writing requires a mastery of several specialized skills.
At The Med Writers, we have a team of experienced writers, graphic artists, sales professionals, editors, and Amazon keyword research experts that work together to craft product descriptions that drive engagement and convert, for clients large and small.
However, if you're looking to go it on your own, we have several key tips that can help you create the perfect Amazon product description.
What makes a good Amazon product description?
To write a quality Amazon product description, you have to understand what constitutes good Amazon product description writing and presentation. The best way to start is to start shopping.
No, seriously.
Hop onto Amazon right now and search for something you're interested in and would consider buying if you had unlimited money.
As you browse through the items, set aside the ones you find most compelling and one or two that are poorly written. After you have a couple of tabs open, look at them side by side and see what's different.
Chances are, the ones you like probably share some key details. They tend to be:
Written in succinct, clear English
Detailed enough, but not too much
Correct on the specifics
Broken up into clear, logical chunks
Engaging and persuasive
Visually appealing
At the top of the search
Amazon product descriptions that capture these features are far more likely to draw attention and turn viewers into customers. However, how does one get their Amazon product description writing to that point?
Writing Amazon Product Descriptions: Getting the Details Down
The first step to getting your Amazon product description up to snuff is getting the details straight. You need to identify what key features define your product and what features your customers are looking for.
Effective market research and a good understanding of your brand can enable this process. A good way to start is by looking at your competitors' products. What do they highlight? What do the product descriptions with lots of reviews have that the less popular ones don't?
Identify those details and organize your notes accordingly. Don't neglect the smaller details, however. Some of your customers will be looking for those specifically.
The trick is figuring out how to prioritize the details that matter most and presenting them in a logical flow that captures the attention of potential customers.
Getting Engagement
Once you know what is important about your product, you need to learn what's important to the algorithm. Effective keyword research and use is essential for driving customers to your product's Amazon page.
Keywords are a field of their own, and each platform has its own algorithm that determines what shows up first. It is highly recommended that you hire a professional to do your Amazon keyword research.
This process will generate keywords that you need to use throughout your description. Your description will need to include the top keywords and as many of the secondary ones as possible.
Most of your clients will be coming in from Google searches, so you need to keep Google SEO (search engine optimization) rules in mind as well as Amazon's.
This ensures you are directing both engagement streams to your products to garner the widest possible market. Again, an SEO expert is highly recommended for this process.
Maintaining Attention
Let's face it, the average person shopping on Amazon has a pretty short attention span. It makes sense, there is such an overload of information that the eyes can't stay in one spot for too long.
When writing Amazon product descriptions, remember that people read small blurbs of text easier than large blocks. Try to keep your paragraphs down to a few sentences max if possible.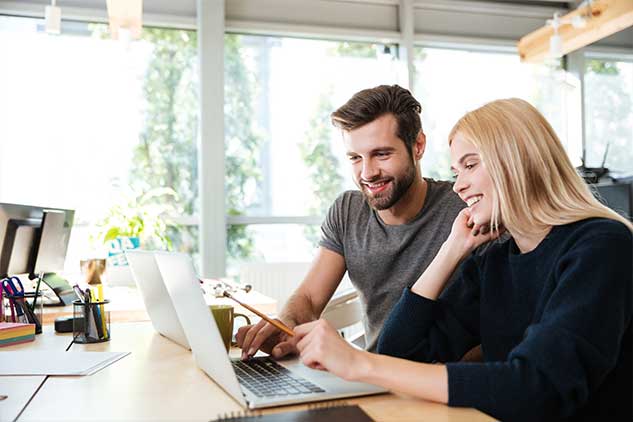 Sometimes, however you need to break it down further. Bullet lists are essential for effective Amazon product description writing.
A good bulleted list for Amazon product descriptions
Condenses information into digestible chunks
Is approachable and quick to read
Visually breaks up monotonous blocks of text
Is succinct without being vague
Think about it this way: reading a paragraph is an investment. The reader has to dig for the important points. With a bullet list, the reader knows exactly what matters and can quickly scan through it to find what they need.
A good one-two punch is to prepare a short 2-3 sentence paragraph followed by the key points in a bullet list. Doing so will predispose the reader to investigating further.
Once you're done with that, you need to arrange the next sections based on the priorities of your customers and the driving features of your product.
Does your continuous glucose monitoring device have a high contrast screen that is visible in the daylight? Tell the customer, but not before you talk about the low cost of supplies or how continuous monitoring improves health outcomes.
Good photographs and graphic design will go a long way in maintaining the reader's attention. Select relevant high-quality images that portray your product in the best light. Take advantage of visual elements to draw their attention to key points.
Just make sure that your images and layout are not messy or too visually noisy. You can include images that have more details, but don't make that the first thing the reader sees.
Why TMW can help
The tips above are intended to help you craft the perfect Amazon product description. One that will do your product justice, giving it a competitive edge in the US's leading online marketplace.
However, getting it just right is a team effort; you need input from people proficient in copywriting, editing, graphic design, Amazon keyword research, SEO, and sales writing. Having everyone on hand to prepare expert product descriptions can be prohibitively expensive.
How we can help in writing amazon product descriptions?
Luckily, medical writing agencies like The Med Writers can help. We have experienced writers, SEO experts, and graphics designers that work together to write a product description that drives engagement and conversion.
We have worked with small startups, pharma giants, and nutritional companies to create product descriptions for Amazon and other online marketplaces. Contact us today to find out more about our Amazon product description writing services!